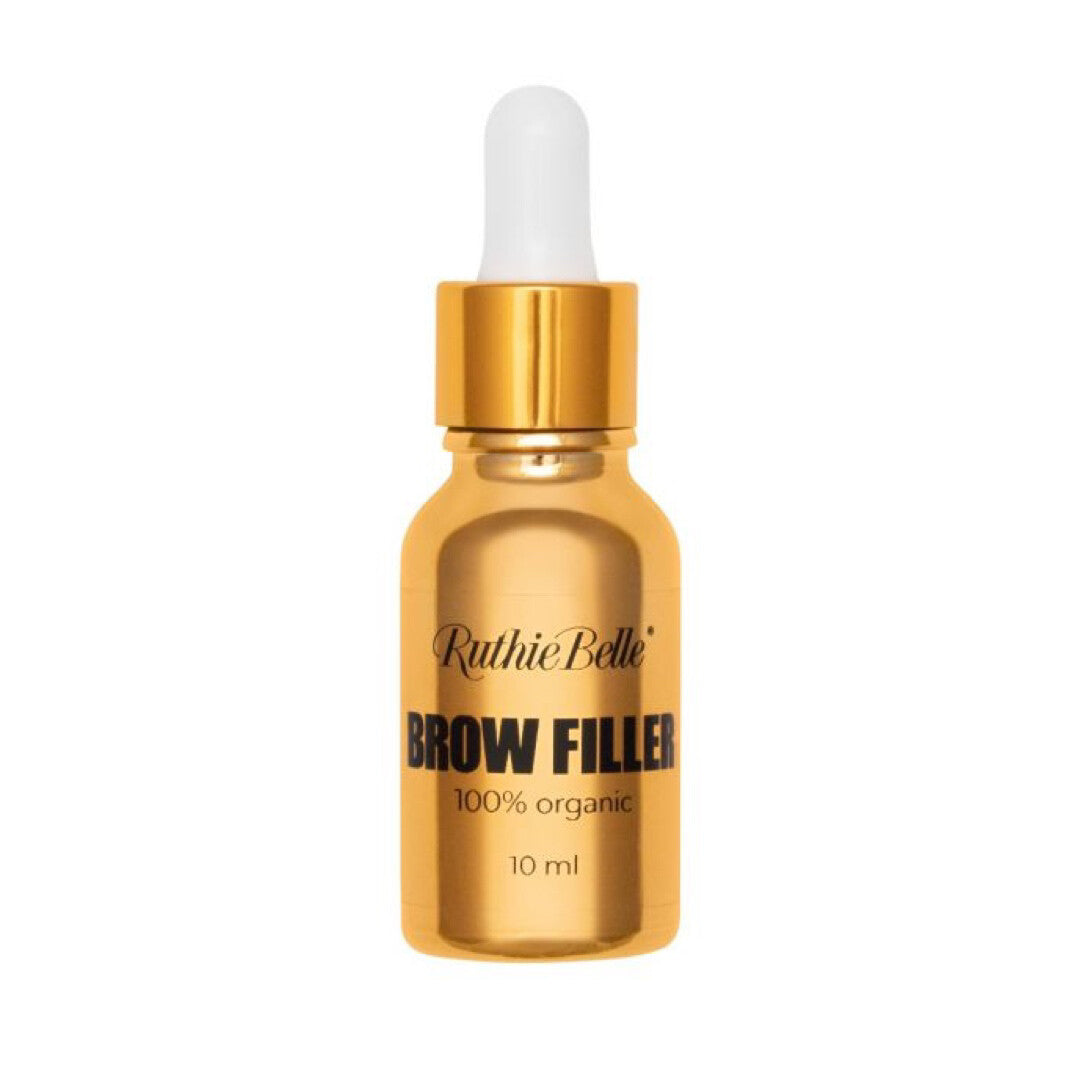 Description
WHAT IS IT?
Ruthie Belle Brow Filler is a unique and innovative elixir which boosts your brow hair growth and makes them more thick and vital. Brow Filler is specially designed for every man and woman who'd like to have thick and healthy brows. It really helps if your brows are slim or thin or in case there are uneven areas or holes in them. 
HOW TO USE?
Apply Brow Filler every evening by gently rubbing it to your brows and the surrounding skin area. In about two weeks you'll see first results: more dark and thicker brows and new brow hair growth. After a couple of weeks use you can see basically no hairless brow area and also recovery of natural dark pigment of your brow hairs. 
WHAT'S IT MADE OF?
Brow Filler is made up of exclusively organic ingredients. It's free of any harmful chemicals. Brow Filler consists of different high quality natural oils and cold-pressed extracts that stimulate brow hair growth. The product is perfect for vegans.
INGREDIENTS
Olea Europaea Fruit Oil, Linum Usitatissimum Seed Oil, Ricinus Communis Seed Oil, Cannabis Sativa Seed Oil, Nigella Sativa Seed Oil, Copernicia Cerifera Cera, Colophonium, Potentilla Erecta Root Extract, Chamomilla Recutita Flower Extract, Quercus Robur Bark Extract, Plantago Lanceolata Leaf Extract, Hamamelis Virginiana Bark/Leaf/Twig Extract, Tocopherol.
FAQ
Where is your company located?
We are located in Dallas, Georgia.
Do you offer overnight shipping?
We are happy to try to offer overnight shipping for you. Every location is different so please reach out to us at hello@beyoutifulwandz.com to inquire about costs and availability for your order.
How long will my order take to ship?
Anything non custom will ship within 24 hours on buisness days. If your order contains cutom products please allow 7-10 buinsess days for production.
Will I recive a digital proof for my lash bath labels?
You will only receive a digital proof if you request one in the notes during checkout.
Shipping
Fast shipping
All non-custom order will ship within 24 hours on buisness days.
Order tracking
Once shipp you will receive an emil will tracking information so you are able to trach your shipment.
Sometimes these emails get filtered to the spam folder
Get in touch
Don't hesitate to contact us at hello@beyoutifulwandz.com with any questions or conerns.