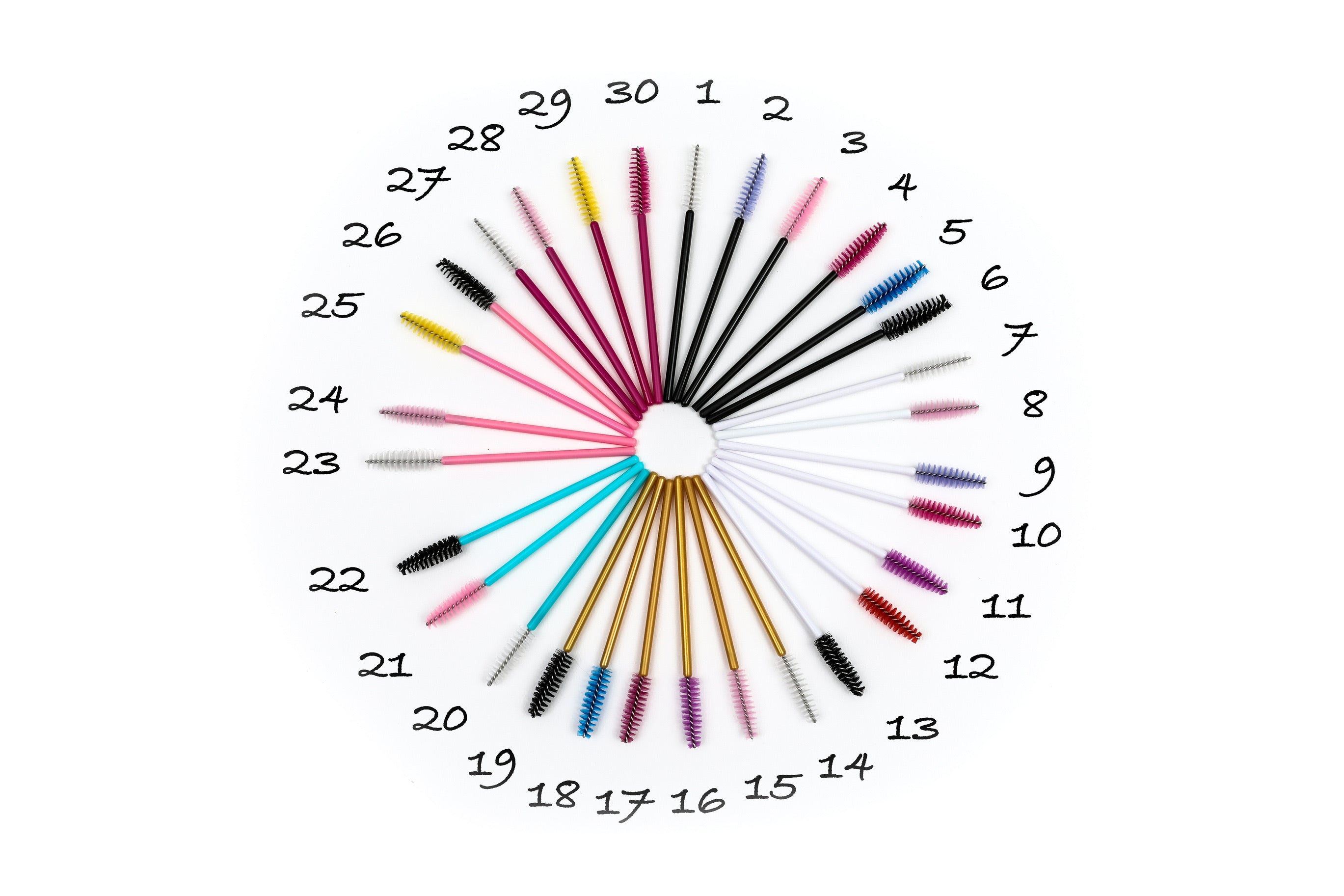 Description
These spoolie brushes are one of our most popular! Great for Classic lashes & keep that Volume & Mega lashes fluffier than ever!
NOTE: 50 wands in each pack
What are spoolies used for?

A spoolie is a tool specifically designed to help apply false eyelashes. It is made of a small brush-like applicator attached to a rod handle, and looks similar to an eyebrow comb or mascara wand. The bristles on the brush can be used to separate lashes, groom brows, and tease out clumps in mascara. But its main purpose is to help apply false eyelashes accurately and evenly across your lash line. Using a spoolie, you'll be able to press down each individual lash onto the top of the natural lashes for a seamless look that's much easier than using tweezers or fingers.

How many times can I re-use a spoolie?

When it comes to spoolies, you can use them as often as you want or need to. However, it is recommended that you replace your spoolie brush every three months or so in order to ensure maximum efficiency and results. This will also help prevent bacteria from building up on the bristles, which could be harmful if brought into contact with your eyes. When using a spoolie, make sure you sanitize it after each use, either by running it under hot water and then letting it air dry or by wiping down the bristles with an alcohol swab. Doing this will help keep your lashes clean and healthy-looking for longer periods of time.

How do you use a spoolie brush for lashes?

To use a spoolie brush, first and foremost make sure there are no loose bristles. Start at the base of the natural eyelashes, brushing downwards in a gentle sweeping motion. This will help separate the natural lashes from the false ones, making them look more natural after application. Once you've worked your way up to the tips of the lashes, use the clean spoolie brush to comb through the false lashes to remove any clumps of mascara or glue that may have come off during application. Finally, carefully brush the natural and false lashes together for a seamless look. Remember to always be gentle when using the spoolie brush, as you don't want to damage the lashes or pull them out. After each use, wipe off any excess glue or mascara from the bristles of the spoolie brush with a clean cloth and store it in a safe place until the next time you need it. With proper care and cleaning, the spoolie brush should last for many applications.

Should I wet a spoolie for application?

Wetting a spoolie for false lashes is not recommended, as it can cause the lash band to become too soft and difficult to apply. Additionally, introducing excess moisture to the lash band may cause the adhesive to weaken and make it less effective. It's best to keep the false lashes dry when applying them. If you want extra hold and curl on the eyelashes, use an eyelash curler prior to application instead of wetting the spoolie brush. This will give you a longer-lasting result without compromising the adhesive of the false lashes.

Can a spoolie be used on eyebrows?

Yes, a spoolie can be used on eyebrows and it has a special place in the brow products family. It is often used like an eyebrow brush and brushes the brow hairs into place, define the arch of the brows and tame any unruly hairs. Spoolies are typically made from soft bristles which makes them gentle enough for use on delicate areas like eyebrows. They can also be used to apply eyebrow products such as gels, waxes and pomades. Simply dip the spoolie into your product of choice and then use it to shape and define your brows. A spoolie is the perfect tool for achieving groomed eyebrows.
FAQ
Where is your company located?
We are located in Dallas, Georgia.
Do you offer overnight shipping?
We are happy to try to offer overnight shipping for you. Every location is different so please reach out to us at hello@beyoutifulwandz.com to inquire about costs and availability for your order.
How long will my order take to ship?
Anything non custom will ship within 24 hours on buisness days. If your order contains cutom products please allow 7-10 buinsess days for production.
Will I recive a digital proof for my lash bath labels?
You will only receive a digital proof if you request one in the notes during checkout.
Shipping
Fast shipping
All non-custom order will ship within 24 hours on buisness days.
Order tracking
Once shipp you will receive an emil will tracking information so you are able to trach your shipment.
Sometimes these emails get filtered to the spam folder
Get in touch
Don't hesitate to contact us at hello@beyoutifulwandz.com with any questions or conerns.